The Challenge and the Charge: Strategies for Advancing and Retaining Women of Color
On Thursday, June 7, The National Council for Research on Women convened the 2012 Leadership Summit, The Challenge and the Charge: Strategies for Retaining and Advancing Women of Color. The Summit brought together leading researchers, corporate executives, and diversity professionals to explore best practices, recommendations, and cutting-edge research in creating sustainable, profitable, diverse, and inclusive work environments.
Click here for a full press release on the event.
At a reception following the panel discussions, several attendees shared their thoughts regarding the Summit, reflecting on both the challenges and the triumphs in building more equitable and successful workplaces. Click each video to view:
The full report, The Challenge and the Charge: Strategies for Retaining and Advancing Women of Color, will be available for purchase in the summer of 2012. Copies can be reserved in advance through NCRW by clicking here. Corporate Circle Advisory Board members and sponsors will receive a gratis copy.
Below are some photos from the event:
Panel with corporate diversity leaders: moderator Jennifer Allyn (PwC) with Erika Irish Brown (Bank of America), Sharon Taylor (Prudential), and Nellie Borrero (Accenture) seated left to right.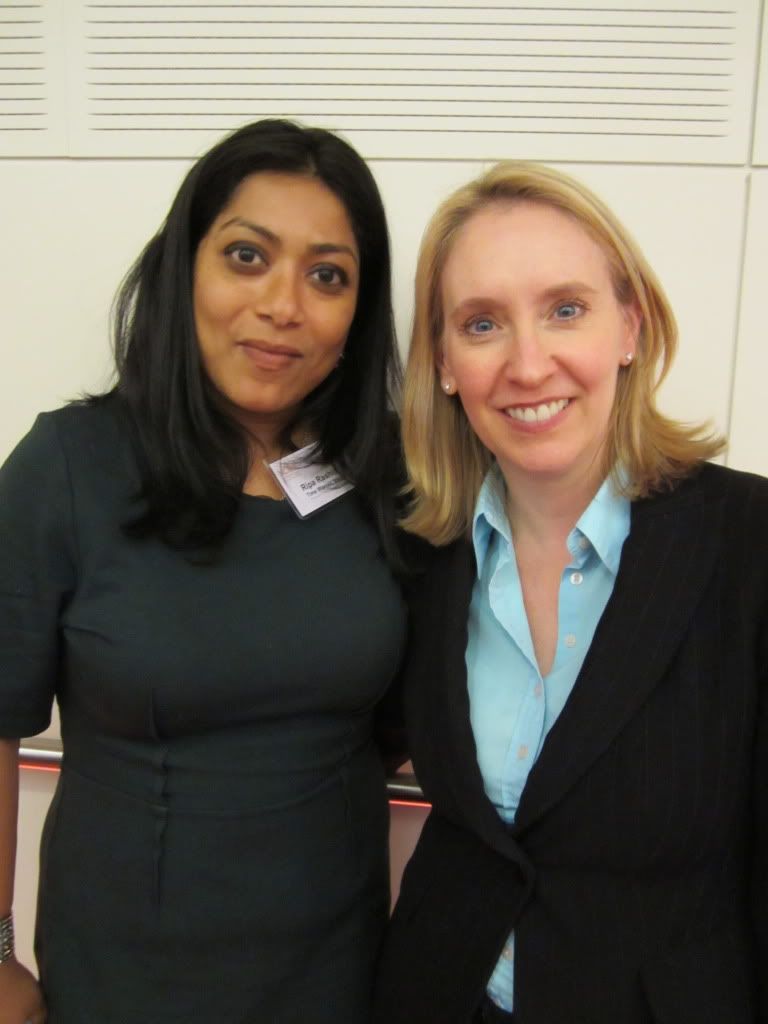 Ripa Rashid (Time Warner, Inc.) with Jennifer Allyn (PwC).
Professor Katherine Phillips from the Columbia Business School explains how diverse teams produce more accurate results with moderator Anne Weisberg (Black Rock) and Marguerite Mcleod-Fleming (Barbara Annis & Associates) seated left to right.

Thank you to the Summit's host, Bank of America,
and to the following Summit Sponsors:
Accenture, Blackrock, Bloomberg, Prudential Financial, UBS
Ernst & Young, Freddie Mac, PricewaterhouseCoopers, The Chubb Group of Insurance Companies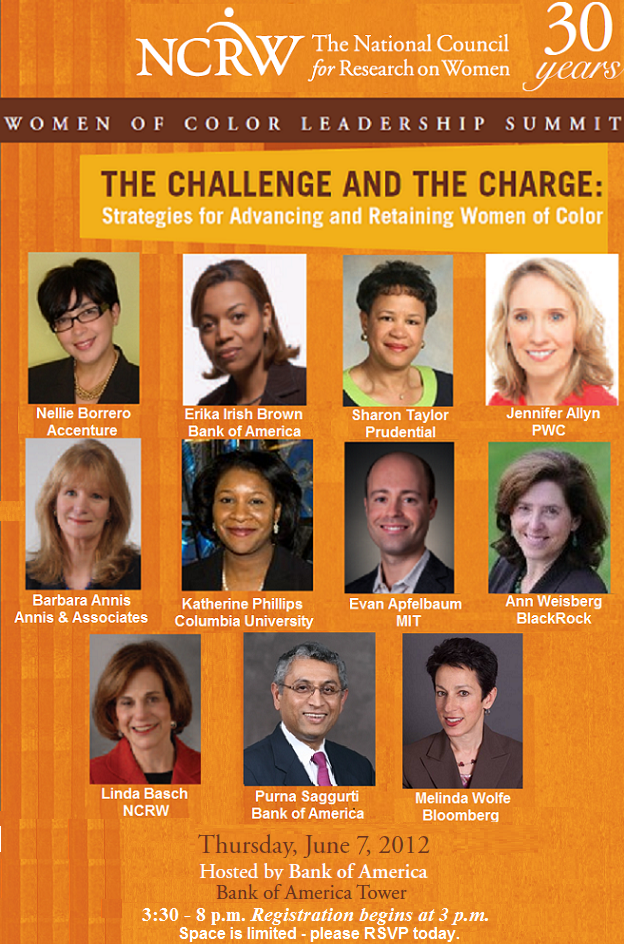 Associated Issues & Expertise:
What We Do
NCRW is a network of leading university and community based research, policy, and advocacy centers with a growing global reach dedicated to advancing rights and opportunities for women and girls. We also have a Corporate Circle comprised of senior diversity professionals from leading U.S. and global member companies and a Presidents Circle of college and university leaders who share our commitment. NCRW harnesses the collective power of its network to provide knowledge, analysis, and thought leadership on issues ranging from reducing women's poverty to building a critical mass of women's leadership across sectors.
© 2007 - 2013 National Council for Research on Women
11 Hanover Square, 24th Floor, New York, NY 10005 - Ph.212.785.7335 - Info:
ncrw@ncrw.org
Integrated Solutions by Lunchbox Communications